A battery monitor, also called a battery meter by some, is a device that provides information about the charging and discharging of your auxiliary battery. For the life span of your auxiliary battery it is important not to discharge it too deeply, you can observe this on a battery monitor.
1. How does a battery monitor work.
The differences between incoming and outgoing current are measured by a so-called shunt. The shunt is a device that you place between the negative pole of your leisure battery and all consumers. If you don't install the shunt this way, not all incoming and outgoing current will be measured and you won't get a realistic picture of your consumption. The display of the battery monitor is connected to the shunt, to show the information on the display.
2. In what way can I monitor my battery?
There are really only two options, namely: a voltmeter or a battery monitor.
Voltmeter
The name says it all: a volt meter only measures the voltage of the battery you connect it to. These are easy to install and also inexpensive. The only thing you need to know is at what voltage your battery is full and when it is empty. We have made a diagram for that, which you can use.
The disadvantage of this variant is that you can't read out how much power is being consumed and charged. If, for example, your solar panels are not working, you won't be able to read this quickly.
Battery monitor for campervans
There are quite a few different battery monitors out there. We'll compare three battery monitors based on price, starting with the cheapest.
Aili battery monitor – budget version
This battery monitor has all the functionalities: Displays you the current voltage. The percentage of the auxiliary battery, the number of amp-hours and shows how many amps are coming in or going out of the household battery. And the best part: this battery monitor costs only €40.
The display of this monitor is constantly lit during charging and discharging of the battery. You cannot switch this off. Does this monitor fit into your budget? Think carefully about where you want to place it.
Keep in mind that the manual is written in poor English and any warranty is not easily claimed.
Mid-range battery monitor
There are quite a few battery monitors to be found in the mid segment. These obviously display the same information as the budget version. A Victron Smartshunt is a good example for the mid segment. Not too expensive and all information can be read from your mobile phone, how convenient is that? If you prefer a display, you can choose for the: Victron Energy BMV 712.
The advantage of these monitors compared to the budget version is that these monitors come with a proper manual and warranty.
High-end battery monitor
There are several high-end monitors on the market. For this blog we use a Victron Cerbo GX as an example. With this variant you can do a lot more than the previous two variants. For example, you can measure the following things: how full your fresh- / waste-water tank is. And how much gas is left in your tank.
You also have the ability to place extra shunts, for example, to monitor what your inverter consumes. If you want to read these things digitally and in one place this might be the right choice for you!
3. Additional information
A battery monitor is of course very handy, but how do you install such a thing? And do you need a battery monitor with a Lithium battery?
Installing a battery monitor
Installing a battery monitor is relatively easy. As you can see on the Electrical Wiring Diagram, you need to have all the consumers meet at one point so that all the consumption is measured. The battery monitor also needs power, which can be connected to a bus bar or directly to your auxiliary battery.
It is of course also possible to install a battery monitor on an existing system. Just let all negative cables of all consumers come together at one point. This point is connected to the shunt, which is then connected to the negative pole of the battery.
Lithium battery
These batteries are usually equipped with a BMS, Battery Management System. This system monitors things like: overcharging, exposure to high and low temperatures and much more. It also monitors the percentage and voltage of the battery. In most cases you can read this data with your smartphone and you do not need an extra battery monitor.
4. Making a choice
Chapter 2 highlighted the different variants and based on that you will be able to make a choice. What do you want to be able to monitor? And what is your budget?
5. Our choice
In the summer of 2022, we replaced our Semi Traction battery with a Lithium battery. This has a built-in BMS and has the ability to be read via an App.
Before that, we used the budget version of €40. We were not super happy with that: regularly reset itself to 0%..
Battery monitor placed neatly in a wiring diagram? You can! And to give you a hand, we have developed 3 files in which you can design your unique wiring diagram!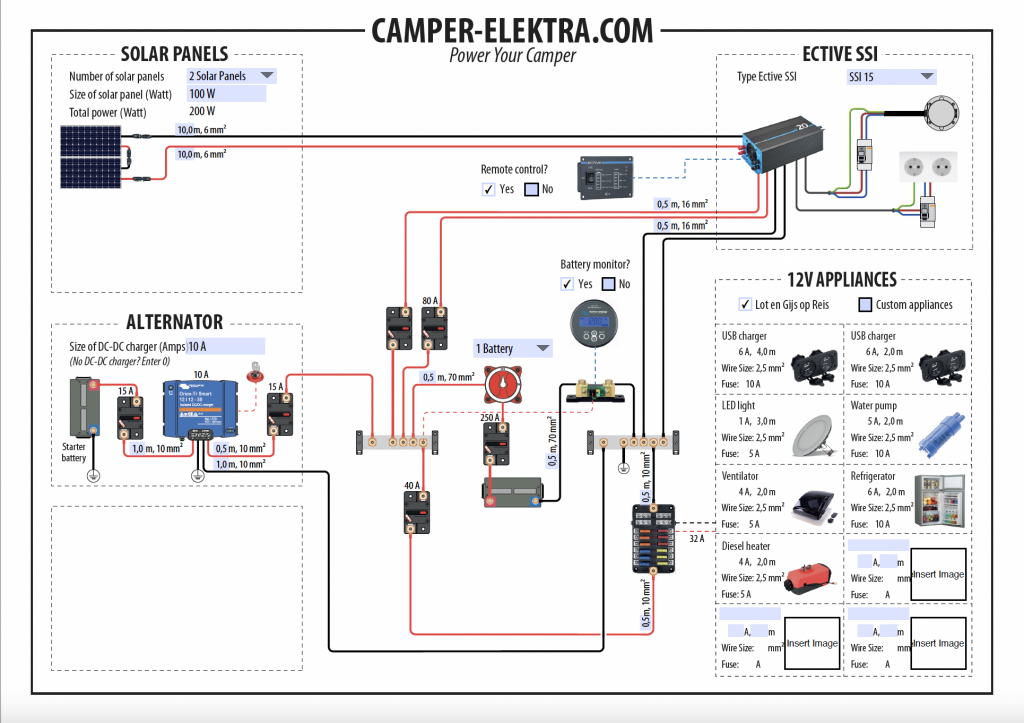 Hey! By the way… any links on this page that lead to products on Amazon are affiliate links and we earn a commission if you make a purchase. Thanks in advance – We really appreciate it!