The Chinese Diesel heater is an excellent alternative for those watching their money. The quality of the included hoses and parts are not great, but then again, what can you expect from €159? Wondering if this device is right for you? Then read our review.
Pro's
Cheap
Heats up fast
Easy to use
Loads of information online
Con's
Not the best quality
Poor manual instructions
No costumer service 
The Chinese Diesel Heater
More and more people are also going out in the winter months. During these cold months, it is nice to keep warm inside. We can use a diesel heater for that.
During our campervan conversion we hesitated to install a diesel heater. After some browsing, it soon became clear that if we were to install a heater, it would be a Chinese variant. Other brands like Autoterm (€550,-) and Eberspacher (€1600,-) became a bit too pricey for us. In the end, we did decide to get a diesel heater and ordered it from Amazon. You can also order them on Aliexpress, only Amazon has an easier return policy.
How glad we are afterwards to have a diesel heater in our campervan; we have already survived some cold mornings!
Our Chinese diesel heater review
Lotte and I (Gijs) have been traveling for almost a year now and are happy to share our experience about our 5kW Chinese Diesel heater. This review is written from personal experience and is not sponsored. Want to know more about us? Click here.
The Chinese Diesel Heater
Replica of an Eberspacher and/or Webasto heater
Available in two variants: 2kW and 5 kW
Comes with complete accessories including diesel tank
In this review we will discuss the 5kW variant
Also available with bluetooth app.
Summary
The Chinese diesel heater is a replica of Eberspacher and/or Webasto at a fraction of the price. Still, the heater warms well; from 6 to 20 degrees in 15 about minutes. Consumption is around 0.2 – 0.5 liters per hour (according to the manufacturer). At the lowest setting good for 25 hours of heating with the included tank (10L). Operation is simple and does not come with a thermostat. The pump is audible, as is the sound of the exhaust. Because the heater is made of cheap materials, there is a chance of defects. This has not occurred to us yet. If you do not want to spend too much money but still want heating in your camper, then a Chinese diesel heater is a great solution.
How does a diesel heater work in an Campervan
A small pump transfers diesel from a fuel tank to the diesel heater. At that point, the glow plug (5) lights up and oxygen is drawn in (from outside). The diesel drawn in is sprayed into the combustion chamber (6) and mixed with the drawn in oxygen. When the glow plug reaches the correct temperature, the mix of diesel and oxygen burns. Because this mixture has already ignited, the glow plug can be turned off. Meanwhile, air moves through the heater: it is drawn in through the fan (1), then the air is heated, blowing the heated air into the campervan (8).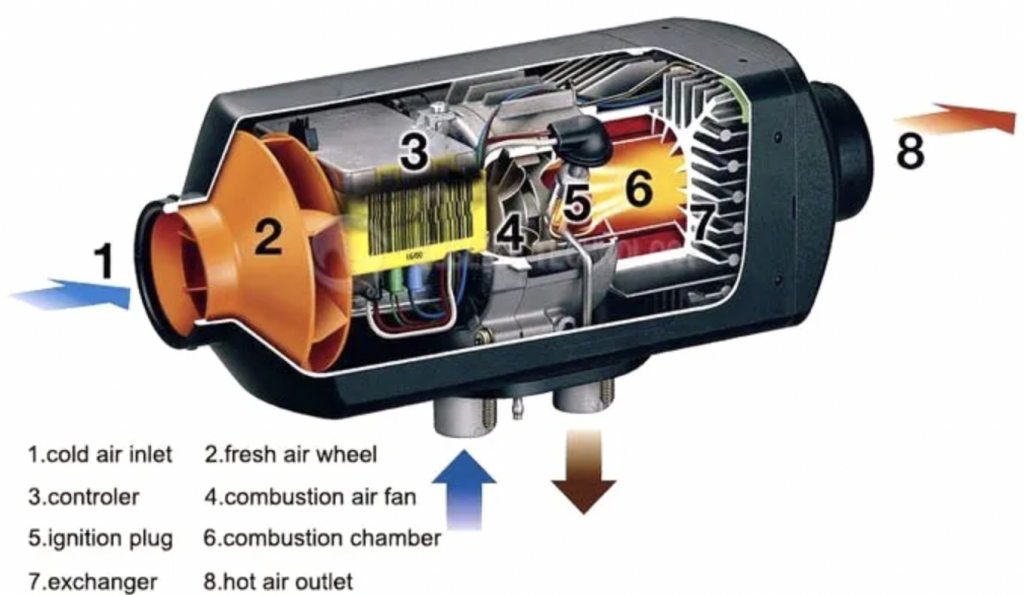 Heating the campervan
During our campervan conversion we hesitated to install a heater, in retrospect we are only too happy about this! Despite the fact that we have insulated our camper very well, it can get quite chilly on a rainy day. Then it is nice to be able to quickly turn on the heater.
The Chinese diesel heaters do not have a thermostat. You can set the "temperature" yourself. This varies between 8 and 35 degrees. In reality, you don't set the temperature, you control the pump speed. The lowest setting (8 degrees), is perfectly capable of heating our RV to 20 degrees.
2kW OR 5kW?
Which size is right for you depends on the volume of your campervan. If you have a smaller van, like a Volkswagen Transporter or Mercedes Vito, a 2kW diesel heater will produce enough heat, even on the lowest power setting.
If you have a larger van, for example an L2H2/L3H2, you can still manage with a 2kW. Heating the van will then take longer and probably cannot be done on the lowest setting (more consumption and noise). Should you have the space to install a 5kW diesel heater, this is recommended.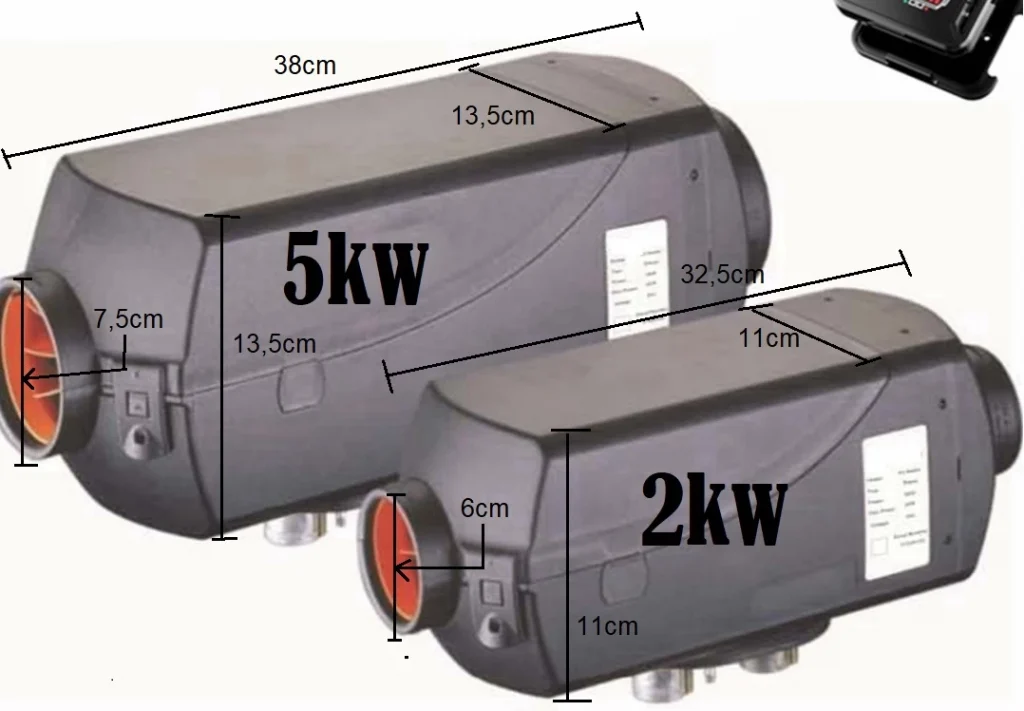 The heater warms excellent (5kw), heated our campervan within 15 minutes from 6, to 20 degrees.
Safety
Any appliance that uses fuel carries certain risks. Whether it is an engine, heater or stove, carbon monoxide is produced as a byproduct of a combustion reaction.
Carbon monoxide is invisible and odorless. Therefore, it is essential that you take the necessary safety precautions when installing a diesel heater, such as a smoke and carbon monoxide detector.
Furthermore, it is important that you install the unit correctly. Study the manual or watch one of the numerous YouTube installation videos.
The model we are discussing in this review is equipped with overheating sensor, according to manufacturer.
We have a smoke and carbon monoxide detector, these have never gone off (thankfully). We also never leave the diesel heater on when we sleep or when we leave our campervan.
Consumption diesel heater campervan
You need electricity and fuel to run a diesel heater, but how much does the unit consume?
Electric
According to the supplier, the stove has a starting current of 15A. The maximum we measured is 9.5A.
While heating on the lowest setting, our heater consumes 1.5 amps per hour (Ah).
Fuel (Diesel)
The supplier indicates a consumption of 0.2 – 0.5 liters/hour. Unfortunately we cannot confirm this ourselves, we have no possibility to test this. There are several videos and websites on consumption.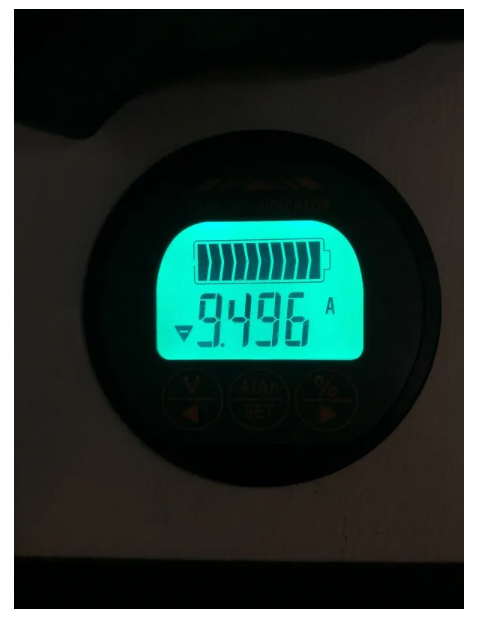 We don't notice the electrical consumption very much. With our 2 x 100 Watt solar panels our battery is full again in no time. For diesel we have a separate 10 liter tank, which we have had to refill several times now.
Installation & ease of use
Installing the heater is perfectly doable if you are a little handy.
Before you can start installing, you must of course find a suitable place.
A common place is under the passenger seat. Check that there are no supporting beams, enough space for ventilation and where you want to blow the warm air into the camper.
Once you have found a suitable spot, it is time to mount the fuel line, intake and exhaust. For this you will need to cut some holes.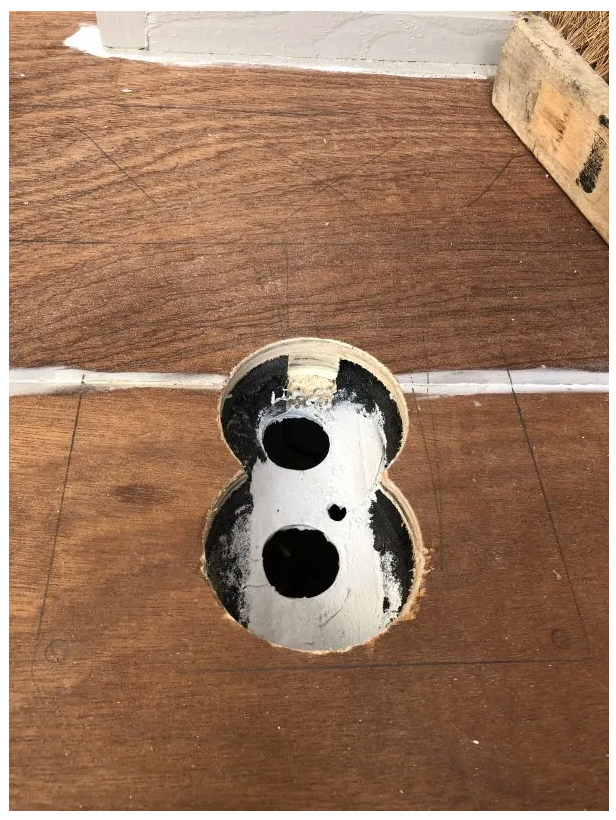 Then you connect the fuel line to your campervan's fuel tank, or an external tank and connect the fuel pump.
Once you've connected everything, it's time to prime the Chinese diesel heater; pump the fuel to the heater without the heater being on.
Now you can turn on the diesel heater and see if it works! When first turning on the Chinese diesel heater, a lot of white smoke may blow out the exhaust. This is because too much diesel has entered the combustion chamber from priming. After a few minutes this will be over.
You will also smell a strange odor the first few times you turn on the diesel stove, this is because the unit is new. This smell will disappear after a few hours.
Once everything is installed, you can easily turn on the heater via the supplied display. Here you can set the temperature and set a timer. You also get a small remote control included, which allows you to turn the heater on and off remotely. Currently also available with bluetooth app, how cool is that?
Installation went fine, finding a suitable location was more difficult. At the time, we chose not to connect the heater directly to the campervan's diesel tank. Now we have a 10L tank next to our heater, a decision we regret. Filling our diesel tank very time consuming and have had several leaks at the fuel filter.
Next time we will connect directly to the camper's diesel tank.
Turning the heater on and off is very easy with the display provided. However, the temperatures you can set do not match the actual temperatures. The lowest setting, 8 degrees quickly heats our camper to about 20 degrees.
Alternative options
A (Chinese) diesel heater is not the only way to heat your campervan in winter.
Gas heater campervan
A gas heater can be a good alternative. Often you already have a gas connection in the camper, for using a gas stove for example. You could connect a gas heater to the existing system.
It is also important to note that not all gas stoves are suitable for use in enclosed spaces, for safety reasons. So check this carefully before buying a stove.
Electric heater camper
Electric heaters are one of the most environmentally friendly heating options for your RV. Unfortunately, suitable electric heaters only work on 230 volts and are not particularly energy efficient. So electric heating for your motorhome is only possible if you always stay at campsites, where you can connect the motorhome to the electricity grid.
Wood stove motorhome
Wood stoves may be the newest trend in campern heating, but they are also the oldest and most traditional heating method. You will need a wood stove that is small enough for an RV and should always carry a supply of wood.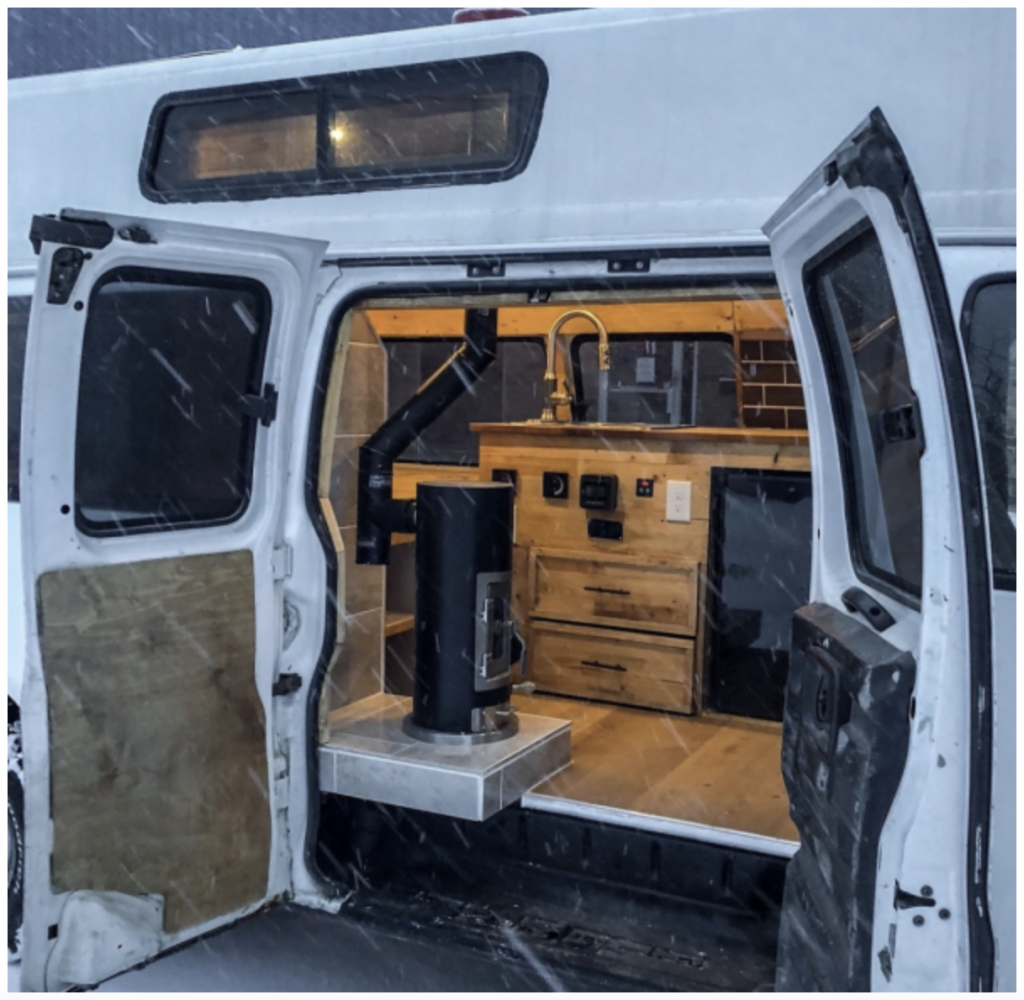 Is a Chinese diesel heater right for you?
If you are a little handy, installing the heater is perfectly doable. There is also plenty to find online about these diesel heaters. There are countless Facebook pages and hundreds of YouTube videos on installation and error messages. The possibility exists, of course, that parts may fail, should you dare to take this risk, a Chinese diesel heater is for you!
We are Lotte & Gijs (on tour). A Dutch couple who, you guessed it, loves to travel! We live in a self-converted Mercedes Sprinter, together with our happy dog Noor. You can follow our adventures here!
Hey! By the way… any links on this page that lead to products on Amazon are affiliate links and we earn a commission if you make a purchase. Thanks in advance – We really appreciate it!